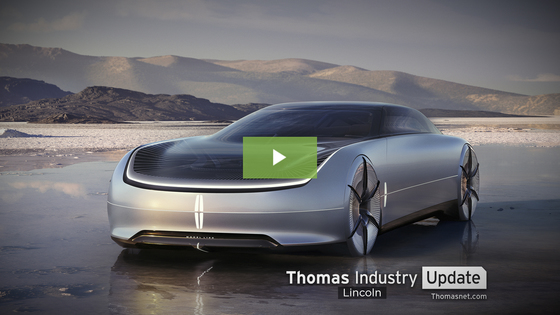 A car without a steering wheel
Welcome to Thomas Insights – every day we post the latest news and analysis to keep our readers up to date with what's happening in the industry. Sign up here to get the day's top stories straight to your inbox.
The cool thing about designing concept vehicles is that there are no worries about mass production or marketing to the general public. You really can go out there and put together the craziest vehicle you can imagine – and Lincoln's latest concept car does just that.
The L100 concept is an extremely sleek and aerodynamic sedan with a glass roof, reverse-hinged doors and smart hubcaps loaded with lights and sensors. There's even a greyhound-inspired crystal hood ornament found on many previous Lincolns and an artificial intelligence system that senses when the driver is near and turns the vehicle on accordingly. But the most breathtaking features are inside.
The L100 has no steering wheel. As it is an autonomous vehicle, it does not need it. But it might still be nice to have one, just in case. However, the vehicle features a center console "chessboard" with a controller that looks like a small jewel-like replica of the vehicle. When the front seats are tipped forward, the passengers can all sit face to face with the chessboard in the middle. And the ambient lighting and digital floor let you really set the mood while the car drives by itself.
Of course, the L100 won't make it to market, though some of its more radical features may eventually find their way into the vehicles Lincoln produces. But above all, the L100 is intended to be a showcase of design, emblematic of where the brand hopes to go.
The L100 isn't the first notable concept vehicle Lincoln has launched this year. In April, the company introduced its Star Concept, an electric SUV with a glass front trunk that blocks light to hide your cargo. It has plenty of other cool features, but it didn't go so far as to skip the wheel. So Lincoln is clearly getting more fearless in its design choices.
Image credit: Lincoln
Steel and Metal Supply Trends on the Rise Amid Tariff Negotiations
Next story »
More STEM