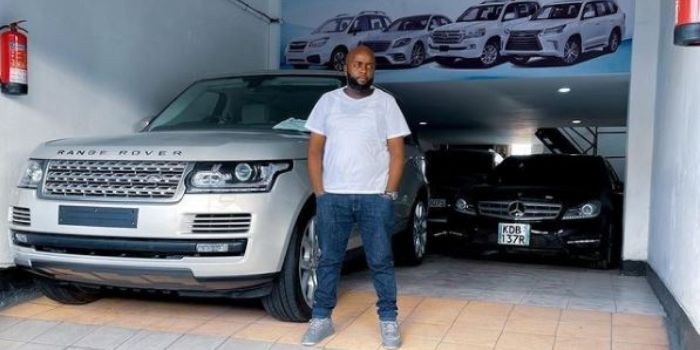 From Mitumba Trader to Luxury Car Dealer: The Story of Mwangi Wa Mercedes
When Patrick Mwangi started selling second-hand clothes (mitumba) as a sophomore, he didn't do it for money, but to buy a thing or two his family couldn't afford.
While a student at Laikipia High School, he would buy clothes from a supplier, which he would later sell to his friends and classmates during the holidays. He continued with his hobby, which has now turned into a business even after graduating from high school.
Thanks to his mini-business, he was more handsome and better dressed. However, an altercation between him and one of his friends put his hobby on hold, forcing him to flee his home in Nyahururu.
"I had a fight with a friend of mine, it was so bad it turned into a police affair because it happened on someone's property," Mwangi said.
Patrick Mwangi poses with some of the vehicles he sells
Patrick Mwangi
Mwangi arrived at Thika, where he lay down while the dust in the house settled. Here he met a friend who was a supplier of mitumba items. Things had changed – what he used to do as a hobby – now he had to do it in order to survive.
On the first day, he asked his friend to give him 10 jumpers won by women, each costing 100 Ksh. He managed to sell all the sweaters in one day, making a profit.
Soon the need to survive was overtaken by the need to thrive. Mwangi decided to stock up on Gikomba market in Nairobi, which he supplied, but in minimal quantities.
As he went about his business he hoped to find a better deal, and as fate threw one in his way. He was called to Malindi for a job in a non-governmental organization (NGO).
However, all was not rosy for him and the other candidates. Mwangi went up to seven months without pay, he barely survived. Fortunately, another window of opportunity has opened.
"I found a job as a driver in one of the hotels. The job lasted three months and I was able to save 25,000 Ksh," he revealed.
The resilient entrepreneur used the money as capital to start the Mitumba business in Mombasa. He started out as a peddler, selling clothes in the streets, before a sympathizer pulled the strings for him to get a small stall.
Here he was selling women's clothing and shoes, and with the money flowing in, he opened his first store in 2013, which was later followed by two more. However, it was a special request from his stepfather that gave him a new business idea.
"He gave me his car and his logbook and told me he needed the money," he said.
His father wanted him to sell the car. Having no experience in car sales, it took him almost a month and a half to sell the car, and the Ksh50,000 commission was an incentive he hadn't imagined.
At that time, he developed more interest in the auto trade. He began to grow in the business, becoming a contact for anyone in his hometown who wanted to sell their old vehicle or buy a used car.
As expected with every new business, the car dealership has had its ups and downs. However, he still managed to save money on the commission he made.
Mwangi bought his first car in 2016, a Toyota Vitz, at Ksh 270,000, which was a good deal. After a while, he sold it for 380,000 Ksh, at an even better price.
As he expanded his network, he met a Pakistani national who advised him to start selling new cars, which had higher profit margins. He followed the advice without asking how.
The young car dealership imported its first new vehicle, a Mercedes Benz C200. Although he managed to return the money, he invested, he made minimal profit.
He returned to his friend for advice, advice he should have asked. When he imports the same type of car a few months later, he sees the fruits of the trade.
"I imported the same car. This time, I made a killing," he said.
Now known as Mwangi wa Mercedes, the young man who left his home in Nyahururu is now a renowned luxury car dealership in Mombasa. It sells high-end new vehicles as well as used vehicles.
Back home, the case that made him leave was settled amicably, and he now maintains a great friendship with the man with whom he had an altercation.
Patrick Mwangi poses with one of the vehicles he sells
Patrick Mwangi