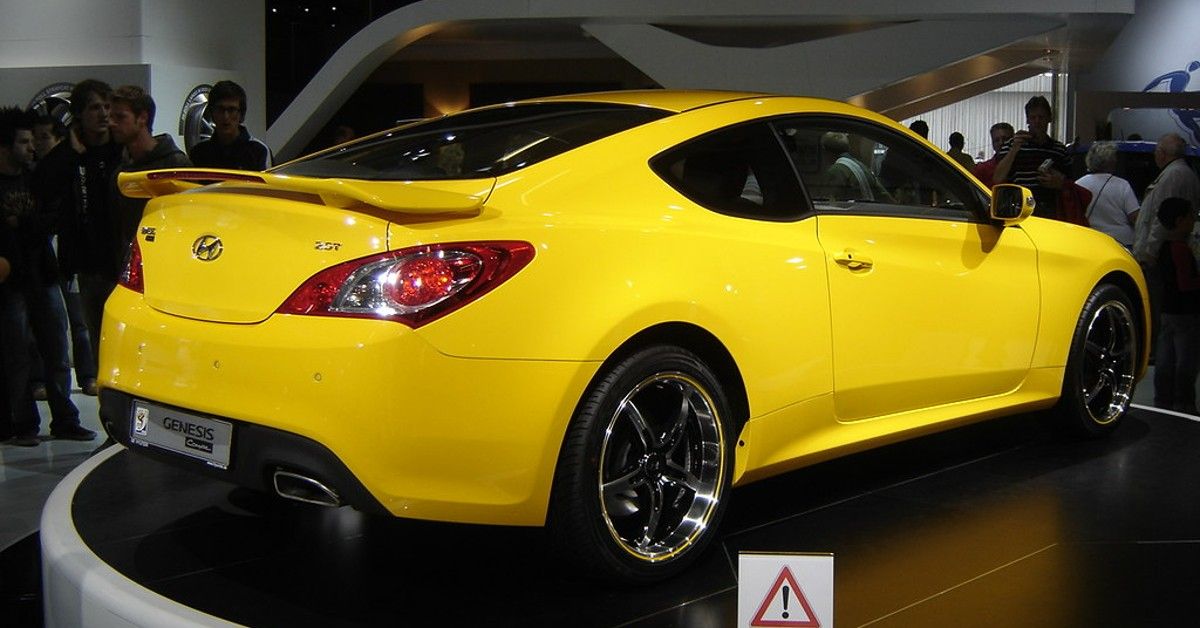 Here's What the 2009 Genesis Coupe Costs Today
The Hyundai Genesis Coupe is a car that entered the Korean market in 2008. The rear-wheel drive sports car shares the same layout as the Genesis luxury sedan lineup. Shortly after its initial release in the Korean market, Hyundai launched the Genesis Coupe in the US market in 2009.
Hyundai USA Interim President and CEO John Krafcik described the Genesis Coupe as being designed "…to deliver a car-challenging driving experience like the Infiniti G37".
Although it performed well, the model was discontinued in 2016. Still, it is still a vehicle that many will see on the roads today as it is quite affordable.
RELATED: Here's What We Like About the Hyundai Genesis 3.8 Coupe
Outstanding Features and Specifications of the 2009 Genesis Coupe
While it may not be the prettiest sports car, the Genesis Coupe is very underrated. The Genesis Coupe versions are based on two engine choices, a 2.0-litre spec or a 3.8-litre spec. There are different trims available including the base model, R-Spec, Premium and Grand Touring. Track trim is also available but only in 2010 and later models.
The base model, which includes the 2.0-liter engine, is capable of plenty of power. Still, the 3.8-liter can deliver over 300 horsepower, which is pretty rare for a Hyundai sports car.
Moreover, the base model of the Genesis Coupe is not afraid of fashionable and practical features. These features include keyless entry, steering wheel audio controls, USB/iPod + Aux input and hands-free Bluetooth for fun and convenience. For the safety system, the Genesis coupe offers a tire pressure monitoring system, cruise control, electronic stability control, ABS and electronic brake force distribution. Externally, the car features 18-inch wheels and a strut bar for the ultimate sports car look.
RELATED: Here's Why We Love the Hyundai Genesis Coupe
What the 2009 Genesis Coupe Costs Today
The 2009 Genesis Coupe isn't shy of power and isn't short on fun. However, it is not an overly expensive ride. In fact, for a sports car, it's very affordable.
In today's market, a 2009 Genesis Coupe can be found for between $4,000 and $6,500. It will be rare to find one for more than $6,500, which is an insane price for such a powerful vehicle.
The less expensive models are those with more mileage on the odometer and perhaps some exterior flaws. However, for the price, any buyer could easily fix the look for a few hundred dollars. Likewise, the most expensive models will likely be those with a higher trim or larger engine. For that price, it's amazing to get any car with an engine that can deliver over 300 horsepower. It's a good thing.
All in all, anyone looking for an affordable sports car should spy on a 2009 Genesis Coupe. It offers convenience, power, reliability, and plenty of features that will satisfy your everyday needs. It performs like a modern vehicle and for the price you won't get anything quite as good as the Genesis Coupe.
Hyundai Genesis Coupe: What you need to know before buying
Hyundai has slowly but surely transformed itself into a manufacturer of true driving cars, and the Genesis Coupe is one of those models.
Read more
About the Author