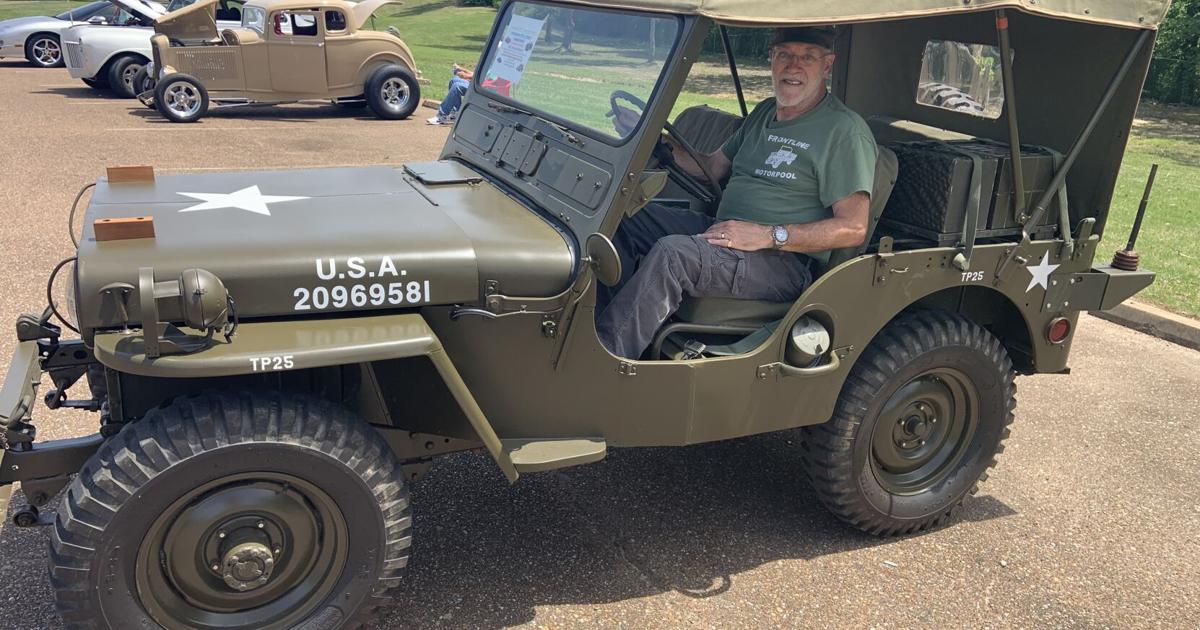 Model A's, mid-century classics and muscle cars compete for the best of show at the Bob Marr Classic Car Show at Olive Branch | News
Gary Maidment used to attend Europe's largest military vehicle show held near his home in England.
He has always admired the Willys MB Jeeps which were made famous during World War II. The iconic four-wheel drive light vehicles were the work vehicle of the United States Army and were known for their toughness, durability and versatility.
"I'm a nostalgia enthusiast," Maidment said. "When you think of WWII vehicles, you think of the Jeep. I've always wanted to own one.
Maidment, who lives in Independence, Mississippi, was browsing Facebook Marketplace about three years ago when he came across a 1952 Willys Overland Model MC Jeep for sale located about a three-hour drive near the Mississippi- Alabama-Tennessee, and decided to buy it.
"I got lucky," Maidment said. "It was a price I was willing to pay and a price he was willing to accept."
The MC models were built from August 1950 to July 1952 as a replacement for the World War II MB series. After World War II, Willys shifted production to the civilian CJ3A model which became the basis for the combat-ready M38. The main difference was the sealed 24 volt electrical system, sealed engine frame and transmission to allow deep water fording, and a reinforced frame.
Maidment stripped it down to its bare nuts and bolts, reassembled it, painted it and restored the engine.
"Most are original," Maidment said. "Part of it is reproduction. It still has the Willys engine and 24-volt electrical system. And believe it or not, you can actually buy new old stock.
Maidment said the M38 Jeeps were made for the Korean War, but very few made it into service because the US military had thousands of leftover WWII Jeeps that were refurbished and sent into service. Korea.
"This one probably didn't go to Korea," Maidment said. "There were still a lot of Jeeps in the Pacific, in Japan and in the Philippines."
Based on the serial number, his Jeep was delivered in June 1952, making one of the last M38s to be built.
The Jeep was on display at the Bob Marr Classic Car Show at the OB Festival in Olive Branch on Saturday, along with more than 70 other classic cars. The auto show serves as a fundraiser for the DeSoto Dream Center, a Horn Lake-based nonprofit organization that helps DeSoto County residents have health care, education, clothing and food. Marr was a former Olive Branch businessman, postal clerk and former city councilman, classic car enthusiast and community leader. He died in 2015.
Turner Smith, coordinator of the DeSoto Dream Center, said the auto show will raise about $3,000 to $4,000 this year to help fund programs.
"It's a great event to help us tell people who we are and what we do," Smith said. "We rely on four pillars of awareness in the community. We have a health clinic for those without insurance. We have an education program where kids can get tutoring after school so they don't fall behind. And we also do food aid and clothing aid.
Smith said it was great to see so many classic car owners attend the show.
"It's amazing to see the care people put into these cars and want to share it with other people," Smith said. "That makes it fun for all of us."
Maidment said he enjoys driving his Jeep and showing it off, as there are very few military vehicles at car shows.
"Not many people rebuild military vehicles now," Maidment said. "And we don't have military vehicle shows here."
Byhalia's Bob Kuntz brought his 1929 Model A Ford to the car show. Kurtz bought the car about 12 years ago and it took him about three years to restore it.
"I've owned other Model A cars over the years," Kuntz said. "A gentleman from Southaven owned this one and was in the process of restoring it. He fell ill and died. He was already torn. So his wife sold it to me.
Kurtz said he always liked the Model A because they were tough, reliable cars. The Model A replaced the venerable Model T and was manufactured from 1927 to 1932 and came in four colors.
Kurtz said the car is fun to drive and can reach a top speed of around 80 km/h.
"I'm a Ford guy," Kuntz said. "They're just good cars. Almost everyone had one back then and there are still plenty of them around.