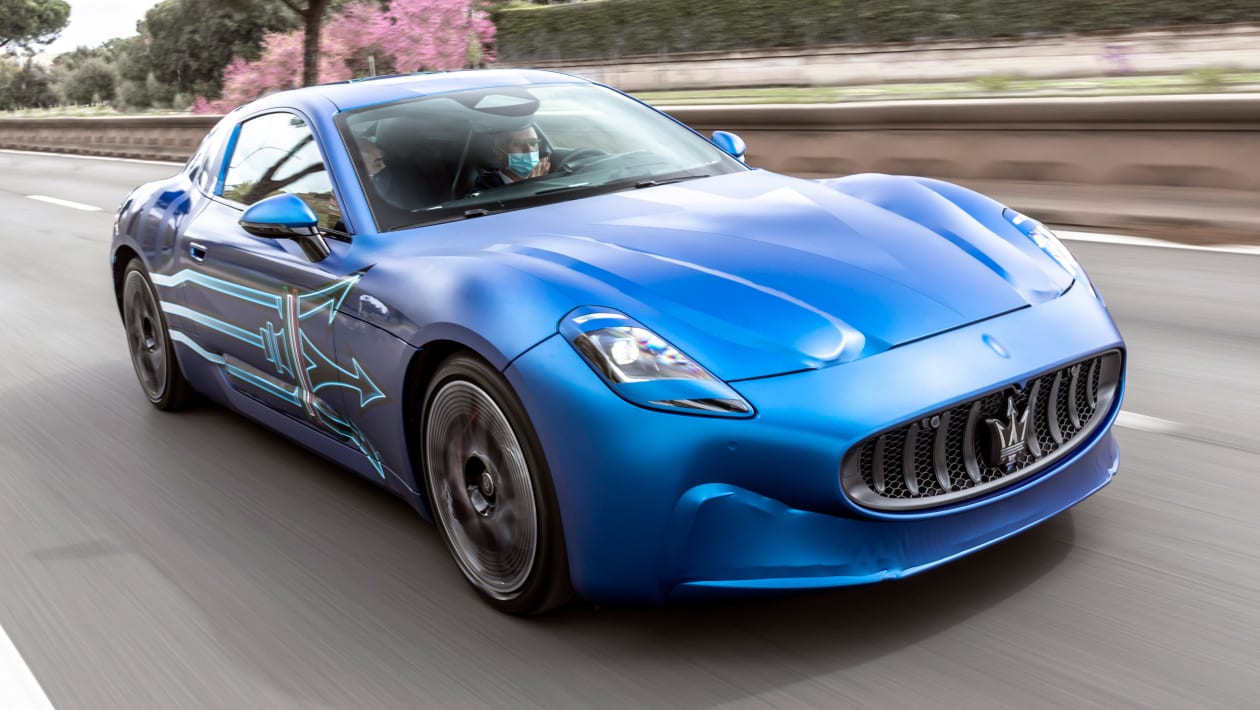 New Maserati GranTurismo Folgore electric car previewed in prototype form
Maserati has given us our best look at its first-ever production electric car, ahead of the model's arrival in 2023. Called the Maserati GranTurismo Folgore, it's a next-generation all-electric variant
The car will be the launch vehicle for Maserati's all-electric future, but will likely also be available with V8 power when it goes on sale. As part of the company's announcement of future Formula E participation from 2023, a prototype version of the GranTurismo Folgore was driven on the Rome E-Prix circuit during this weekend's race. end.
Translated from Italian to English, Folgore means "lightning bolt" and this nameplate will appear on all future fully electric cars from Maserati. The brand has now unveiled specifications for the new GranTurismo, along with a full timetable for the rollout of its "Folgore" range of electric cars.
Maserati product planning manager Francesco Tonon pointed out that the GranTurismo Folgore will deliver "well over 1,200 hp of installed power" from its three-motor all-wheel-drive system, which will translate to a from 0 to 100 km/h in less than three seconds. . A top speed of over 186 mph has been confirmed.
Although the brand didn't state any expected range figures, Tonon said the maximum range from a full charge would be "satisfactory for our customers".
Maserati CEO Davide Grasso went on to detail the brand's rollout plan for its future electric vehicles in terms of timelines, with the Grecale and GranCabrio Folgore models also due to launch next year.
By 2025, the Italian luxury brand will also unveil a fully electric version of its MC20 supercar, as well as all-new electric versions of its Levante SUV and Quattroporte sports sedan.
Given Maserati's recent involvement in the Formula E racing series, he also stressed that its future sports models – including the GT – will feature a transfer of technology from the race track to the road. The GranTurismo Folgore will benefit from Formula E inverters, with a "bone" battery for optimal weight distribution and to keep the car's center of gravity low.
The GranTurismo, GranCabrio and Gercale Folgore will not use parent company Stellantis' upcoming STLA platforms, thus preserving their Maseratis identity, according to the brand.
However, like the next Levante and Quattroporte will be electric only, offering Level 3 self-driving capability. These vehicles could use the Stellantis STLA Medium platform, offering a range of up to 440 miles.
The GranTurismo and GranCabrio will still be sold with combustion engines and Tonon believes there is still a market for combustion-engined luxury GT models. "Today the market for an ICE version, especially on a car like that, is absolutely still there. What we're trying to do with Folgore is give the consumer a choice and a type of different experience.
While the GranTurismo and GranCabrio will be available with Maserati's new "Nettuno" twin-turbo V6 engine, an all-electric variant poses a problem for the soundtrack, a key Maserati feature.
Tonon said that in the Folgore models "you won't hear a fake ICE V6 sound, it's about being genuine. The motor is different, so we took the electric motors and tuned that sound so that it really is a raw Maserati. It's not wrong. It all started with the sound of the electric motor tuned to be iconic, unique and Maserati.
need to sell your car?
Find your best deal from over 4,000 stockists and sell up to £1,000 more. It's so easy.
Note 'Excellent'
Trustpilot
There's also more potential for even more powerful, track-based Maseratis in the future. When asked if a spiritual successor to the brand's MC12 hypercar was possible, Grasso replied, "Short answer, yes. I say this with a smile because as we continue to push the brand forward, our customers will be very excited to see what we have to come. I don't want to say more about it because there is an essential part of the plan that revolves around these initiatives.
Elsewhere in the brand's current lineup, the Ghibli sedan won't be replaced by a next-gen model.
Click here for our first drive of the new Maserati Grecale SUV…