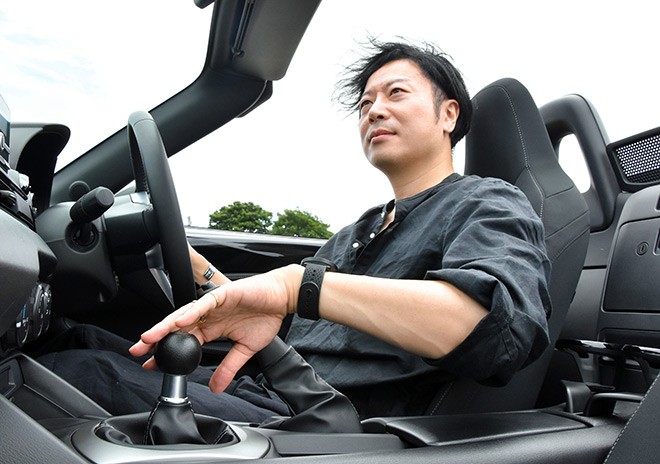 Shift to EV offers the last chance to buy a shifter for car buyers
Yoichi Shibuya, enjoys driving his six-speed manual transmission Mazda Miata through a mountain pass commonly known as "Doshi-michi".
Stretching for tens of kilometers, the winding pass with many uphill and downhill sections is part of National Highway No. 413 connecting Sagamihara, Kanagawa Prefecture and Lake Yamanakako in Yamanashi Prefecture.
As Shibuya, 41, a self-employed worker living in Ebina, Kanagawa Prefecture, pressed the accelerator with his right foot, the engine started revving with a roar.
As soon as the tachometer needle on the dashboard indicates more than 2,000 rpm, he presses the clutch with his left foot and shifts the gear lever from second to third with his left hand.
As the clutch was released to engage the gears, the roadster sports car continued to accelerate with increasing speed.
"It's a nice feeling that can only be felt with a manual transmission car," Shibuya said.
The expected shift to electric vehicles has triggered a last-minute surge in demand for cars with manual transmissions, like the sports car driven by Shibuya.
While shifting fans think now is the last chance to buy manual cars that enhance driving fun, younger drivers are drawn to a more analog driving experience.
Major automakers are also adding manual transmission models to their lineups to meet demand.
HARDER TO DRIVE BUT BRINGS 'JOY'
Shibuya found his passion for driving after losing his wife, whom he spent a lot of time with, to cancer a year ago.
Driving was what filled the void in his heart as he could only forget his grief when he was behind the wheel.
Soon he became more and more interested in driving a manual transmission vehicle that requires both hands and feet to operate.
As the government has set itself the goal of reducing greenhouse gas emissions to net zero by 2050, automakers are shifting into high gear towards electric vehicles.
This could mean cars with manual transmissions will soon be a thing of the past, as shifters can only be fitted to vehicles with combustion engines, which emit carbon dioxide when driven.
Shibuya felt more and more that this might be the last chance to buy a car with a shifter.
But the problem was that he only had a driver's license limited to driving an automatic transmission.
In January this year, Shibuya applied for a course at a local driving school to be certified to drive a manual transmission car and passed the exam.
He took a test drive in a Miata equipped with a manual transmission and decided to buy the vehicle on the spot, for a lump sum payment of around 2.9 million yen ($21,000).
After taking delivery in February, he drives the sports car almost daily.
It was harder than he initially thought to drive a shifter.
But he found driving fun because the more he drives, the more his skills improve.
"I stumbled upon a manual car at a turning point in my life and it transformed my everyday life into something joyful," Shibuya said.
"FRESH" ANALOG TECHNOLOGY
The Miata has become a big seller. On average, it has sold between 350 and 450 units per month since 2019.
But more than 1,100 units were sold each month from January to March this year.
Of these, the manual transmission edition accounted for 80%.
The current model was introduced seven years ago in 2015, so sales are expected to decline under normal circumstances before a model change.
Although the sales increase was partly spurred by the release of a special edition in December last year, a publicist for Mazda Motor Corp. said the car was selling "beyond expectations".
According to Shonan Mazda Co. car dealership's Sagamihara outlet, it began to receive an increasing number of inquiries about the Miata manual transmission after fall 2020, when the government announced its goal of net-zero CO2 emissions. by 2050.
And when Mazda unveiled its strategy in June 2021 to make all its cars electric by 2030, speculation swirled among users that the current model could be the last shifting Miata to roll off the production line. assembly.
"An increasing number of people are visiting our store to buy, thinking it might be the last chance to buy a shifter," said Kaito Kawasaki, a new car sales representative at the Sagamihara store.
About half of buyers of the manual-transmission model are in their 50s or older.
They include those who want to buy manual transmission cars like the ones they drove when they were younger now that their kids have grown up.
Some are determined to buy their last gas-powered vehicles of their lives, Kawasaki said.
OTHER MANUFACTURERS ALSO OFFER BALCONY CARS
While several hundred units of Honda Motor Co.'s new Civic Hatchback are sold each month, the manual transmission model accounts for almost 40% of sales.
About half of buyers are in their 20s and 30s, with most deciding to buy the shift option after getting information about the car from social media reviews and YouTube videos published by members of the same generation.
"Manual transmission cars built with analog technology are, in fact, new to young people in the digital generation, and they enjoy the fun of tinkering with machines," said Daisuke Sato, head of product planning section. at Honda.
Other major automakers are also following suit.
Toyota Motor Corp. will add a manual transmission option to its automatic-only Supra sports car, which will begin sales as early as fall.
Nissan Motor Co. has revealed plans to include a stick-shift version for its new Fairlady Z sports car.
(This article was written by Takuro Chiba and Junichi Kamiyama.)