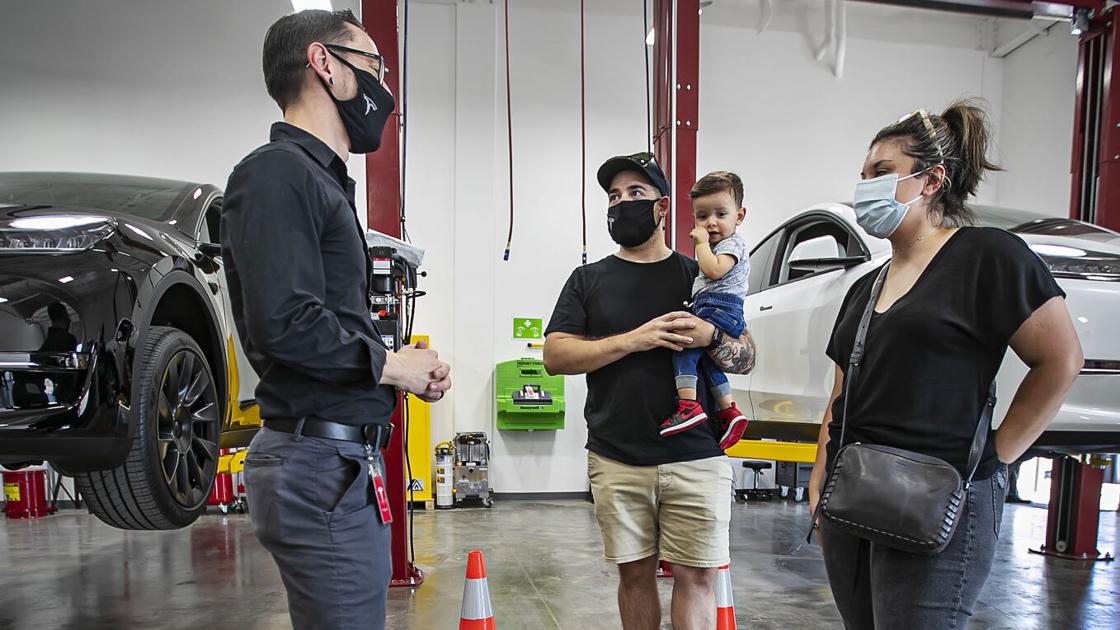 Tesla Opens Sales, Service and Delivery Center at Nambe Falls Travel Center | Local News
Wink, wink: New Mexico now has a Tesla sales, service, and delivery hub for its electric cars, even though state law prohibits automakers from selling directly to clients.
The point of sale, which will soon be at the new Tesla Center at the Nambe Falls Travel Center in a former casino off the US 84/285, reflects all of the goals of a car dealership. You can buy a vehicle, drive it to your home, and have it serviced.
The announcement, made Thursday during an inauguration ceremony attended by the Senses. Martin Heinrich and Ben Ray Luján, has been touted as the first such agreement between the company and a sovereign indigenous entity – a fact that has not escaped Nambe Pueblo Gov. Philippe Perez. "It was a cooperative effort between Tesla and the pueblo," said Perez, who added that negotiations took place about a year ago. "It didn't take long to reconcile.
"We are doing our part to protect Mother Earth," he said. "We are proud to be the first tribe to have Tesla on Indian lands. It's really great that we can lead the way in New Mexico with renewable energy. "
Tesla does not franchise its sales, service and delivery centers as dealerships, which are owned by the company. But Nambe Pueblo is under no obligation to place restrictions on Tesla's sales and service presence.
The Tesla Center is near the Hilton Santa Fe Buffalo Thunder Casino and the Nambe Pueblo Field Resort obtained from neighbor Pojoaque Pueblo along the highway. After years of planning, the tiny Nambe Falls casino opened in February 2016 next to a gas station and convenience store developed by the pueblo. While the travel hub continued to operate, the short-lived casino business closed in September 2017.
Tesla has just 65 sales and service centers in 24 states, according to the company's website. Ten states, including New Mexico and Texas, ban direct sales and others limit the number of stores.
New Mexico has 1,846 registered Teslas, including 361 in Santa Fe County, according to the New Mexico Department of Taxation and Revenue. The first Tesla arrived in New Mexico in 2012.
"It changes everything for owners," said Brian Dear, founder and president of the Tesla Owners Club of New Mexico, which he founded in 2015 to bring a Tesla sales, service and delivery center to New Mexico.
"This will help improve sales of electric vehicles," Dear said. "People can go for test drives, which has never happened here. It's a gigantic thing for New Mexico. This is such an important step.
Until now, local Tesla owners had to bring their cars to Colorado Springs, Colorado; El Paso; or Arizona for service, or have Tesla send a technician to their home. Cars had to be shipped to a buyer or picked up out of state.
"The comparison so far is getting your car fixed, you had to think about hotel reservations and possibly a multi-day stay," Dear said. "You didn't have a reservation for Thursday or Friday because they might not arrive at your car and then you will have to stay the following week."
Santa Fe residents Melanie and Josh Vigil had to take their Tesla Model Y Performance to El Paso when it broke down because the company forced it to go to the nearest repair center.
"It's just convenient" to have a service center nearby, she says.
The Tesla Center has two service areas, a washing area and a "gallery" with one car. Potential buyers will be able to "drive" a vehicle. There is no dedicated sales office but sales can be done on site.
Most Tesla are sold online.
Luján, raised in the region, praised the move.
"I had the honor of growing up with [pueblo] members who made this possible, "said Luján. "This is what happens when great minds come together."
As electric vehicles gain a foothold in the United States, Heinrich said he lobbied for funding for an infrastructure package in the Senate to build charging stations for electric cars, especially in underserved states. .
"It's a really positive development," said Heinrich.
In 2019, Senator Jerry Ortiz y Pino, D-Albuquerque, sponsored the so-called Tesla Bill, which would have allowed non-franchised automakers to sell and service their vehicles in New Mexico.
Ortiz y Pino said state car dealers "absolutely oppose" the legislation. Because automakers can only sell their automobiles through franchises in New Mexico, auto dealerships have become incredibly valuable, he said.
"These are licenses to print money," he said. "If you have the Ford dealership in Santa Fe, Albuquerque or Las Cruces, you are guaranteed to live well because [customers] must come to you; they can't go anywhere else. It's not exactly a monopoly as there might be two dealers in a community, but they limit franchises so that they maintain very profitable relationships with their franchisors.
Tesla's distribution model, which eliminates franchises, has raised concern among traditional dealers, said Ortiz y Pino, whose bill did not get off the committee.
"Local dealers didn't want Tesla to come because they don't make a lot of money selling cars," said Ortiz y Pino. "They earn their money from guaranteed warranties and the maintenance that must be performed through them. This is where the real profitability of the concession comes from.
Ortiz y Pino said he was happy to hear that Tesla had found a way to do business in New Mexico by partnering with a sovereign pueblo. "It's a smart idea," he said. "I think they found a way around it."
Correction: This story has been edited to reflect the following correction. An earlier version of this story included the incorrect date Brian Dear founded the Tesla Owners Club of New Mexico. The club was founded in 2015.